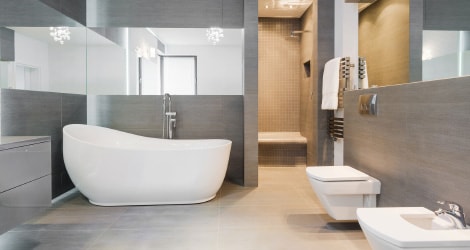 At Home Renomatic we provide a full bathroom design and renovation service in Toronto. We look after everything from initial bathroom design concepts to bringing your dream bathroom to life, whether it needs to service a family or be a luxurious retreat. Bathrooms can vary dramatically in size and we will advise on ways to make the most of the space you have.
Our renovators will organize all associated trade work and provide onsite supervision as well as custom-make any cabinetry to suit your bathroom renovations in Toronto or remodeling project. We supply custom vanities, shaving cabinets and shower screens to suit your new bathroom design.
Our bathroom renovation services include:
Bathroom redesign – we can help you with ideas on planning and putting together your thoughts.
Bathroom remodeling – modifying and changing the current layout of your bathroom.
Skylights – we are able to offer skylights were possible to allow for extra natural light.
Bathroom plumbing – plumbing can be completely re-configured to suit the layout of your bathroom.
Room preparation – an essential part of the renovation in most cases requires the removal of old wall linings whilst checking for any water damage, rot or in rare cases the presence of white ant.
Carpentry service– repositioning of windows, doorways and room sizes
Waterproofing – to maximize the life of your remodeled bathroom it is essential to completely waterproof all floor areas along with shower walls.
Wall Tiling – based on your choice of the size and type of tiles we can lay them horizontally, vertically or on an angle.
Painting – a painting service is available on request.
Bathroom flooring – flooring might almost appear a simple part of renovations however a suggestion of tiles laid on a 45 degree angle or a pattern border will make all the difference.
Bathroom cabinets – cabinets can be made to measure and specially designed to your taste.
Shower screens – there are several options available which include framed, semi-frameless frameless, and shower panel.
PC Items – we can supply wall and floor tiles, vanity units, toilets, shower screens, taps, mixers, shower heads, lighting, towel rails, paper holders, soap holders, different shaped floor grates etc.
As part of our service, we will do thorough cleanup to make sure that the rest of your home does not suffer from the renovation. Once everything is clean and ready, you will have a beautiful bathroom with no traces of its past. In its excellent new design, your bathroom is ready for use. Our team will help you with details regarding maintenance of the sanitary ware used in the bathroom. We will also inform you about the warranties and maintenance of different bathroom ware. We believe our job will be complete once we see the satisfactory smile on the lips of our customers as they step into their remodeled bathroom.