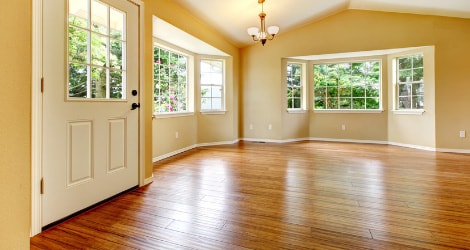 Home Renomatic understands your home is one of the biggest investments you'll make in your lifetime and we want to help you make it complete with beautiful flooring designed to last. Our expert team is trained to install all types of flooring. We use the best products available so you don't have to worry about the quality of your new floors. Specializing in the installation and repair of laminate, tile and hardwood flooring so you have many options when it comes to choosing the right style and materials.
Hardwood Floor Installation
Whether you're looking to build a new home or renovate your existing rooms, solid hardwood floors are a great choice. A quality hardwood floor, installed by a professional will give your home a high quality, elegant look, will provide a strong and durable flooring surface that can reduce the sound in your rooms. Hardwood floors aren't just a timeless classic when it comes to picking the type of floor you want, they also offer an easy to clean and great long-term investment in the life of your home.
Tile Flooring
Tile floors are available in glass, porcelain, wood-like, natural stone and more! The choice to finish a room with a tile floor can add beauty and value to any room and can accent every room type. Not only do tiles floors offer a wide selection of design styles and options, they are designed to last with the durability to withstand the wear and tear in high-traffic areas. Tile flooring is also a low-maintenance floor material that can withstand water spills, pet mess, and other dirt and debris when they are installed and sealed correctly.
Laminate flooring
Laminate floors are a newer material that has become an option to consider when looking to install new floors in your home or office. They are very versatile, affordable and easy to clean. The advantage of laminate flooring is its ability to simulate the look and feel of almost any type of hardwood, stone or ceramic flooring giving you an affordable alternative to more expensive flooring materials. Laminate floors can typically be installed faster and in a variety of areas and applications, allowing your project to be completed quicker and usually within a smaller budget.