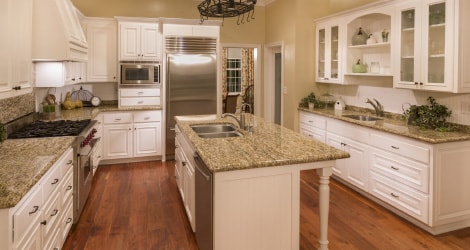 With Home Renomatic you and your guests will enjoy your newly renovated kitchen in Toronto, created just as you envisioned, over a home-cooked meal or a casual gathering. Whether you are an avid chef or simply enjoy entertaining, your personal style will be reflected in a kitchen made by us.
Our kitchen designers will come to your home to get to know your style, personality and personal tastes so that they can design the kitchen of your dreams. We will ensure that your kitchen complements the other rooms in your home, no matter what your style may be. We thoroughly discuss your kitchen requirements at your own home and suggest kitchen accessories to suit your design.
Complete Trade Work
Home Renomatic will take care of all kitchen renovations requirements in Toronto, from start to finish, including performing associated trade work to get your kitchen up and running. Our qualified tradespeople can work with your building contractor if required or manage building works for you.
Kitchen Build and Installation
We complete your project at all stages from the design of your kitchen to the building of cabinetry and installation. Our quality cabinetry is made in our very own factory, giving us full control over each and every step of your kitchen renovations in Toronto. In addition, we will manage the installation process for your convenience.
1 – On-Site Consultation
Your personal project design manager will visit you to understand your kitchen renovations goals and objectives in Scarborough. We will ask a series of questions to understand your vision and theme.
2 – Concept Designs & Renovation Solution
We will prepare a renovations solution tailored personally to your renovation goals and will include everything you discussed on the first visit. This renovations solution will included all labor and materials and be clearly defined in a logical step by step process. You can have peace of mind your renovation will stay under budget!
3 – Renovation Package
A draft renovations solution will be emailed to you for review to ensure everything has been covered and allowed for. Once you're happy the renovation solution, a second on-site will be organized where we will present this solution to you to make you feel 100% comfortable with what is included and excluded. There will be no obligation to sign any contracts. When you're ready, our team will start the renovation process.
4 – Come Home to a Beautiful Kitchen
No headaches, no unanswered phone calls, no disappointments, no stress. Just another successful custom kitchen renovation in Scarborough by Home Renomatic. Come home to the kitchen you deserve.